Welcome to The Dog House, Boise's "One Stop Dog Shop"!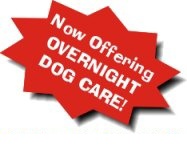 The Dog House offers unique dog services for the Boise, Idaho area. Bring your dog to our Doggy Day Camp for a day of supervised play, social interaction with other dogs and tender loving care in our safe, clean facility.
Need training? Our Leadership Class involves basic family dog obedience training for the dog, the owner and the family. Other dog training classes include Rally O and private training sessions.
The Dog House offers goodies from our own bakery. Maggie's Bakery features a wide variety of wholesome fresh-baked doggy treats. Only natural ingredients are used - no preservatives, salt or sugar are added.
We also carry a line of specialty dog items in our retail store and we are distributors for Flint River Ranch Pet Food - a premium dog food that is baked for easier digestibility.
Be sure to check out the rest of our website. If you have any questions, please feel free to contact us or stop by our location.
The Dog House
6004 Franklin Road
Boise, Idaho 83709

(208) 331-3060
7 a.m. to 7 p.m. M-F, 10 a.m. to 2 p.m. Saturday, Closed Sunday